Plants Vs Zombies
Use plants and bombs to defend your home against zombie attacks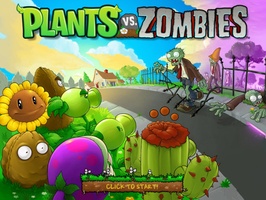 A horde of zombies is invading your home and your mission is to stop them - but forget about using a full arsenal of weapons, here your only weapons are... plants!
Plants Vs. Zombies is a peculiar game that asks you to defend your home against a zombie attack. There are more than 26 types of zombies, which come wearing pole-vaulting poles, jack-in-the-boxes, traffic cone hats, or reading the newspaper... and to defend yourself against them, you'll need to plant different kinds of plants, among them carnivorous mushrooms, explosive flowers, plants that shoot to slow down, and the priceless sunflowers that increase sun production to help your plants grow faster.
The main objective is to select those plants that will best match up against the zombie hordes that are about to arrive. In each game you can use up to six different types of plants, and each time to advance to a new level, you'll gain a new plant to use against the next attack. Every once in awhile, your crazy neighbor will pay you a visit and give you some helpful advice.
Plants Vs. Zombies is a great game with solid graphics and entertaining music. Don't be surprised if you find yourself glued to your screen for a long time, defending your home from these enemies.
↓ Read more